Well it's been over twelve months since my last post, all the best of intentions to write so much more and whilst I know I've had numerous things to blog about, I've just not got my act together until now…
Life just delivered a short, sharp, overly harsh shock and a Facebook post simply won't cut the mustard. Come to think of it, neither will this, but perhaps I'll feel a little better. What this will mean to anyone who stumbles across it, if anything, I truly have no idea. I also don't particularly care; I feel a need to write it, that's just how some things are.
I guess it was around 25 years ago when I was first introduced to a new dentist in Balderstone, Rochdale. My good friends Helen & Julia worked alongside, with/for him in the practice so the man came highly praised and I trusted both their opinions… Well, sometimes…..
After smashing the shit out of my upper front teeth in a game of street football as a child and picking up a few trademark boyish chips here and there, it sure felt like I'd spent way above the national average in terms of childhood hours in the dentist's chair. Those who went to primary school with me will possibly remember me having a silver front tooth in the late 70's early 80's. Way before they were cool!
It's funny, throughout all the pain I endured, and there was plenty, I never really feared going to the dentist, I just disliked it. The injections, the sounds, all just part and parcel of whatever is necessary to get your self fixed up and sorted out. That said, things are surely always a little tense when visiting a new dentist for the first time, recommendation is one thing, reality generally another. For the most part we just trust in the professionals, allowing them get on with their work. This was no different, a new guy to look after my capped and crowned front row.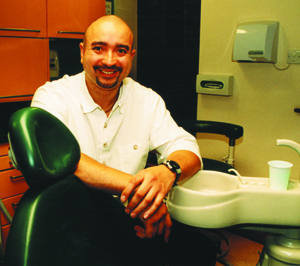 Clyde Archer the Dentist, quite possibly the friendliest and most welcoming eyes and smile I've to date ever witnessed on a first introduction. With a firm handshake and warming, almost excited vocal tone "Hi Phil, I'm Clyde, great to meet you". Talk about instantly at ease.
Now anyone who works or has worked with the public will understand just how hard it is at times to meet, greet and generally be nice ALL the time. No matter what's going on in your world, you must try to be nice. Possibly why I no longer work with the public. Clyde however, managed this objective seamlessly and with the greatest of ease, not so many in this world were ever so naturally gifted in the art of humanity as he.
Personally, I don't frequent the dentist unless something needs looking at, I've never been the see you in six months type, it just is what it is, not exactly the right way I know. Things with Clyde were no different and he told me off in his own way over the years I knew him. Now we are hardly talking berating here, and let's face it, I always knew he was right anyway, so he only ever needed to do what he knew best, to gently remind me "with a great beaming smile".
After being with this Balderstone superstar dentist for a few years I can't recall if I called Helen, Julia or the dentist directly to book an appointment. Clyde was no longer there. (If you knew Clyde, you know why) and I was genuinely gutted.
The next handful of years I do recall begrudgingly seeing another dentist on Drake Street, but one thing is for certain, I missed the bloke that tended to my gob without complication! I can say with a full heart right now, just as I could back then, this man was by far the best dentist I ever had, and with a heavy heart, the best dentist I will ever have! There are so very many reasons for those statements, way too many to list here and as per usual in typical Sped style, I'm probably waffling enough. To those who ever sat in Clyde Archers dentistry chair, you will understand entirely.
Skipping forward a few years I was informed that Clyde was fit and well and back in the game, I'm thinking Helen here, could have been Julia, either way you are both stars! Within no time I was booked in, signed up to Denplan and back on the program with the best dude in the business.
It's a funny old game isn't it, the dentist malarkey. There's the meet and greet, take a seat, open wide, fettling and fixing and finally the swift matter of business, course of action, pay the receptionist, ciao for now. Not much time for chit chat with someone's hands in your mouth. Well that was never the case with Clyde! No matter how busy the waiting room there was always time for a little more than pleasantries, never an urgency about the man, even when you knew it was like a cattle market just outside the door. Clyde owned the communication key almost like he'd single handedly designed it.
Seeing him out of his work environment for the first time with friends was the moment I truly understood that nothing was for show, no business act, just pure love. (I hesitated just then because I wasn't sure if the word I used was OTT. It's not!) Within moments I was invited to join his table and for the first time we shared a few drinks and a chuckle together in the Dog & Partridge. Circa the late 90's.
The friendship I shared with Clyde was not about weekly or monthly interaction it was one that just developed over time. Bits of business, work for others that he'd found for me, work for him, work with him, a few drinks with one another here and there, coffee at his place discussing web projects and ideas. Boat dreams & chatter, surfing, the ocean, travel, life….
No matter how long we hadn't see one another, whenever we did I always felt I'd walked away from him with something. A renewed sense of self-worth, belief, happiness! Such a humble, unassuming and genteel soul that gave me so much in such little time we actually shared. He had the gift of making you feel like you were the centre of the universe.
In many ways, I'd like to think and say we were very similar, but almost feel unworthy to even contemplate it so; such was this true giant amongst men. The element of self we certainly did differ on was control, and I witnessed his all when a small business venture of ours that included a third party turned sour. When I get frustrated with someone, I do the jittery verbal diarrhoea dance pretty much every time. Clyde however stepped up to the mark, embraced it and dealt with it faster than a chocolate bars lifespan at a weight watchers meeting. Firm, assertive, directly to the point and boom, all was sorted! The third party became the no party and Clyde and I tied up the loose ends, "Smiling".
The past few years I hadn't seen Clyde as much as I'd have liked, life just sometimes gets in the way. Sure, we messaged each other on FaceBook every now and then but here's a little story of the last time I saw him and how yet again I walked away with something.
Christmas Eve 2014 Rochdale town centre; not a place I frequent regularly in fact it had probably been a good five years since my last visit, living in Rossendale now, I don't really need too.
A little problem when you're me; "everything" is rather a last minute affair. Cards required! Shit, I have 2 hours till the shops close… So anyway, I'm walking towards a rather long check out queue with cards in hand and I somehow spotted Clyde passing the open fronted Clinton cards store, for whatever reason he looked in and through all the other heads he instantly spotted me. Now most people on their last minute shopping sprees would have acknowledged the moment with a smile, perhaps a nod or a wave, NOT Clyde! He did what came so very natural to him, he made time for me and waited so he could spend a few precious moments catching up and exchanging the truest, most sincere of festive wishes. I knew it was a gift at the time as I once again parted from him smiling inside and feeling blessed to know him. I just hadn't realised the significance of the moment until Friday last in receiving the gut wrenching news he'd left the physical world we at times all take for granted.
Ironically (right now) I'm sat listening to a Jeremy Vine Radio2 dentistry debate as I type. "Visit several dentists" a bloke just said, "you will find one you connect with". Well, never a truer word spoken eh! Wow.
Clyde Archer – What you gave the world is firmly understood by all you ever touched. You took the cards you were dealt privately, with the courage of a lion. What's fair or right seemingly never fazed you and so how better I honour you're passing by adopting a similar stance and philosophy. You were needed for a greater role than you could provide on this plane. Arguing with myself that you were not the right man for such a role would be rather like holding a belief that Shakespeare would have been better suited to knitting than writing. Our destiny is what it is, what more can we truly do than to eventually accept fate.
Acquaintances would perhaps be what we could be referred as, but I certainly knew and felt very differently, my dentist, MY FRIEND! By my writing of this post I selfishly create a place I can come to quietly reflect on all you gave me. I can view the face of my friend and carry a clear image of you with me until the time I hope I'm able to join you on the other side.
It's not often moisture appears in this man's eyes, but I feel no shame in declaring I've welled up a couple of times for you Clyde. I've spent more than a few moments in quiet contemplation and I'm certain there will be many more to come. After all, I know only too well what the world just lost. I'd say rest in peace, but somehow I think you will be working your enchanted magic elsewhere for some time yet. Now you ARE at the centre of the universe.
Clyde Archer – 
4 February 1966 – 17 April 2015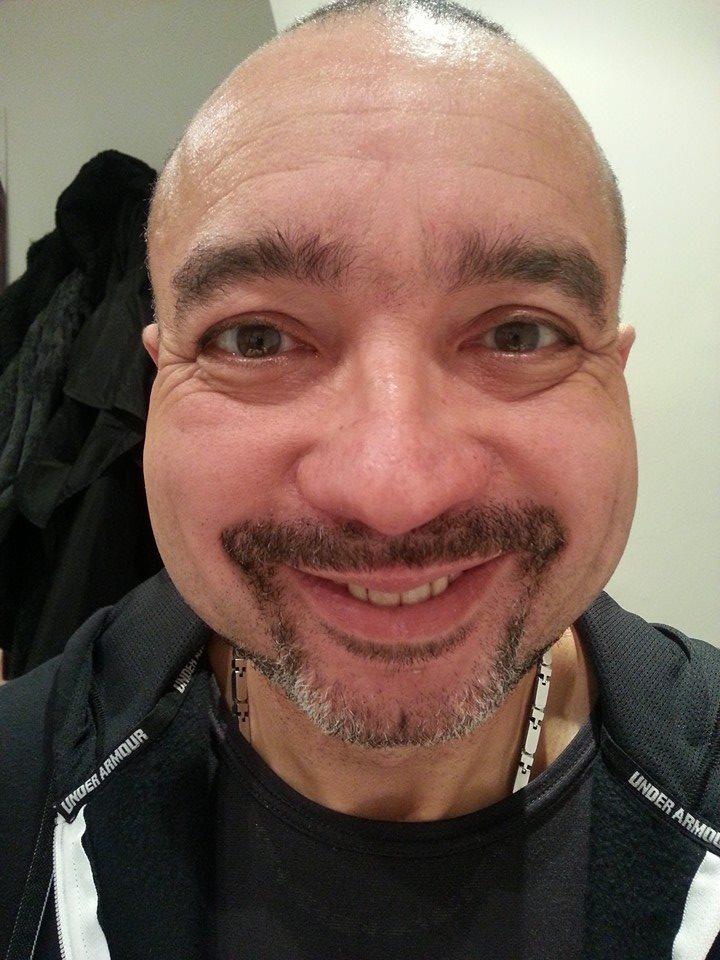 The following two tabs change content below.
The Master Of My Fate, The Captain Of My Soul... Hierophant blog artist and small town northern plebeian caught in a revolving overzealous opinionated bubble. My writing can be harsh but is always to the point and without bullshittery. Provocateur of humorous catalytic moments as warped as a bunch of alcoholics sipping sarsaparilla in a temperance bar mid prohibition.