Is The Sun Shining On The UFC Or McGregor
What Now For Conor Mcgregor, Well As Coach 

Kavanagh

 Said This Morning …
Phew, the sun still rose today 😆

— Coach Kavanagh (@John_Kavanagh) April 20, 2016
The tweet went down and the masses certainly reacted, videos were hastily published, numerous live streams happened. But who is the sun shining on The UFC Or McGregor!  What am I talking about? Well if you really missed it, here it is in all its glory.
I have decided to retire young.
Thanks for the cheese.
Catch ya's later.

— Conor McGregor (@TheNotoriousMMA) April 19, 2016
So what do we have here?… A breach of contract in Conor's apparent refusal to attend the press conference in Las Vegas later this week? Conor simply does not wish to break his training regime? (currently in Iceland.) Has the tragic passing of Joao Carvalho after his fight at the TEF-MMA event, which took place Saturday 9th April at the National Boxing Stadium in Dublin had an adverse affect on Conor's outlook? All this amidst speculation from some that this is Conor and his management attempting to renegotiate their terms for UFC200. Lets break it down a little with the limited information we have.
Coach Kavanagh of course hit the nail on the head with his statement this morning "Phew, the sun still rose today". Whilst this is entirely true, as a UFC fan, you can't help but wonder, just who's back yard it hit first. So, Is The Sun Shining On The UFC Or McGregor?
UFC197 and the return of Jon Bones Jones this coming weekend has seemingly been engulfed by the shade created from Conor's tweet, so he's out. Not that Bones has seen much sun lately anyway.
Dana White, UFC President stated that the UFC pulled Conor due to his unwillingness to attent this weekends presser, but that came after the tweet of all tweets. Dana also felt the need to express his feeling toward conor, he said "As far as I'm concerned, we still have a good relationship with Conor".
I on the other hand just don't get it, the irony being that they just managed between them to snuff UFC197 out of the sun mid fight week whilst promoting UFC200 better than they would have if Conor had shown up for the conference. This is either a huge business balls up or a stroke of absolute marketing genius! (Remains to be seen.)
Conor has spoken about how he hates the long ass flights to LA in the past and that he's looking forward to New York now the bill has been passed. Maybe that's simply a factor.
Lets say for arguments sake we are in Dana's shoes right now. We make the headline fight we feel will best represent the UFC for UFC200. Commercial dates are set, billboard production at the ready, marketing merchandise and a conference they no doubt spent a shit load more on. How exactly can you still then respect the guy that just pulled on you! Living in hope? Yes, this man has made you money and could potentially continue to do so but he just cost your outfit dearly then claims he's retired. So, unless this is simply McGregor throwing a joker at the pack in order that he create a hype train for UFC200, I don't really see how the sun is shining on the UFC right now.
So, then it would certainly appear to me that McGregor's sat on a pretty pile of cash sunning himself up in errr… Iceland.
Reasons for Conor's unwillingness to attend upcoming conference could be an indication that he could well be mid morality check due to his recent experience at TEF-MMA. Stranger things could happen. I witnessed a suicide in my mid twenties only to spend the next two months going into myself on quite an intense trip (life/death.) We each deal with things differently and Joao's passing is certain to have stripped numerous nerves when, your in attendance, your team mate is directly involved and to top it off, it's what you do for a living. Conors heartfelt tweet/FB post last week is testament to his feelings on the subject.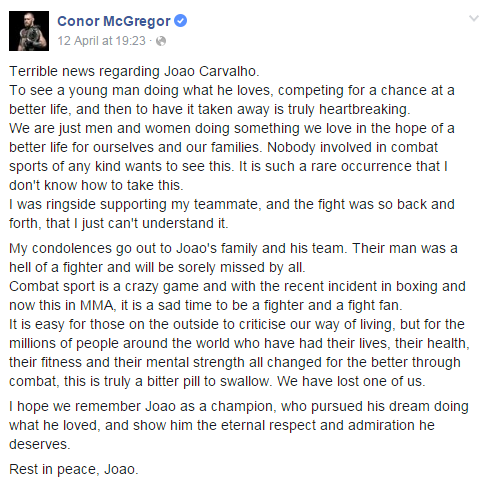 Certainly this is all something to consider, though he is in Iceland apparently 'training', so whilst this could well suggest he's getting his head down and back to business, he could also be there in support of his team mate Gunnar Nelson or simply taking time out away from the media circus that no doubt follows him around Dublin. Speculating on this really just spins the head, as Conor would say "it is what it is" and I'm sure we will all find out from the man himself in due course.
There are rumblings from some that this is a UFC200 contract renegotiation gone sour. Sour how, or for whom, the man is set for life, if he wanted to retire, he's pretty damn comfortable in the grand scheme of things. I wouldn't sweat it.
We've had recent rumblings of a possible UFC sale. We have Mayweather mentioning that he wants to increase MMA fighters' paychecks and more recently stating "Its time for him to start promoting MMA fights".
MMA is an evolving sport and just because the UFC is leading the way at this moment in time with regard to being the largest promotion, it does not mean that's how things will stay. Many fighters for example have piped up whining of late with regard to low pay grades leading many to believe something has to give. Many fighters are also losing millions in sponsorship due to the UFC's ties to Reebock, so with all things considered, there is a good deal of shaky ground under the UFC at this moment in time.
Conor McGregor has created his own hysteria through hard work, seriously entertaining performances, charm, charisma and headline busting moves just like this one. His business acumen and clear ability to seize the opportunities as they are presented makes him more of a threat to the UFC than an average exemplary employee.
Free agency fighters could well be a thing to look out for here as Conor could well make a business call that see's him create a few cards of his own, shit, who knows, maybe there's a future McGregor 'Mayweather business partnership in the making. I'm not at all saying this is what's happening, I'm an avid UFC fan and blogger based just outside of Manchester FFS, what I am saying is that the sun from where I'm sitting is all over McGregors ass.
Lastly, lets also not forget that the UFC didn't get strip McGregor of his belt, Well at least not yet anyway. (Watch That Space With Intent!) It would appear that the UFC have spat their dummy over the conference but by no means have they written McGregor off completely. The next few days are really stacking up to be extremely interesting to say the least. Whilst UFC197 and the return of Jon Bones will certainly bolster my weekends entertainment, you have to feel that The UFC need something to happen pretty damn soon to bring it back to the forefront of social stimulus and conversation. (VitD is all Conor's for the moment.)
For now, I personally feel Conor will fight for the UFC again, perhaps even under renewed and rejuvenated contract. Unless of course his lawyers find some miraculous way out of his current UFC contract because he has got plans. (The UFC sure wouldn't take that one sitting down.) Bottom line though, anything and everything is possible in business and has probably successfully happened before! What will be will be and regardless of all the hearsay and speculation, this shit makes for excellent gossip, bullshittery and an absolute abundance of McCheese.
So what's your call? Is The Sun Shining On The UFC Or McGregor?
Just about to post this blog and spotted a tweet from Conor that stated "I'm going to make an announcement" as I clicked it I was informed this tweed does not exist (Deleted).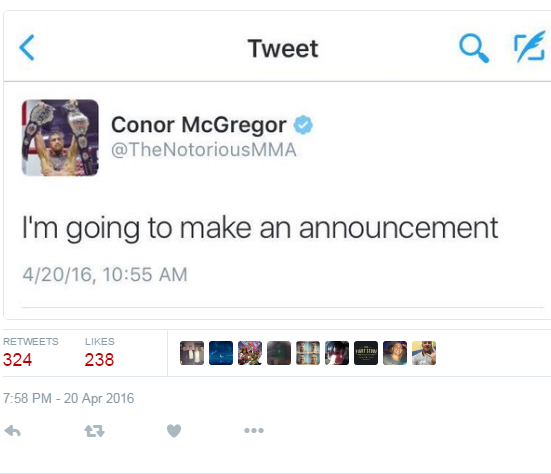 The following two tabs change content below.
The Master Of My Fate, The Captain Of My Soul... Hierophant blog artist and small town northern plebeian caught in a revolving overzealous opinionated bubble. My writing can be harsh but is always to the point and without bullshittery. Provocateur of humorous catalytic moments as warped as a bunch of alcoholics sipping sarsaparilla in a temperance bar mid prohibition.