The McGregor Diaz UFC200 Show
Another day, another dollar…. Unless you perhaps shoot your stubborn corporate ass in the foot?
UFC200 press conference is over and as I sit waiting for the 197 weigh-ins my fingers started twitching to get some of this down. I mean, is it me or did the presser still feel like the The McGregor Diaz UFC200 Show. Dana looked a tad stressed, ye olde puffy eyes and I even thought we may have seen a few sweat beads appearing through the man's shirt. There stood a man that 'I believe' has undoubtedly experienced a good few Chinese burns this week. Dana stood by the corporate styled clamp down, the clamp? In all probability that lives in the Fertitta Bros offices. My guess is that he perhaps feels somewhat indifferent to the company on the matter. He looked to me like he was rather anxiously defending some shit he really doesn't hand on heart believe in, (Poor guy.)
The McGregor UFC200 Show kicked straight in with journo's clearly amped to get cranking on the McGregor Diaz Q&A's. Two things to note here… Diaz sat right beside Dana. His intro clearly leading us into believing  that a Diaz / alternate panty match up was well in the making. If you want to act the corporate muscle, you at least have to be the corporate and have that shit nailed down tight! (They didn't)
1. No need for Diaz to be on stage if there is no actual fire storming news to accompany him.
2. You at least need to have talked to Diaz with your intentions before you sit him down for a live presser. A diaz brother not complying, I mean who'd a thought it!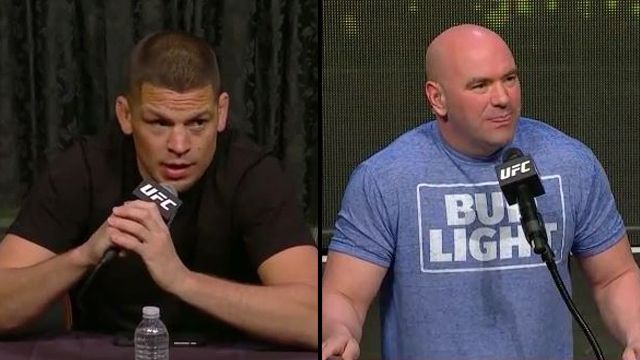 Comply? Nate Diaz did not! " I came to fight Conor McGregor and I don't have too much interest in anyone else" – "If I don't fight Conor McGregor at UFC 200, 'I'm going on vacation". It was around this point that the UFC tweeted a line Nate had murmured "I'm down for whatever. I come here to fight." But that simply did not represent what he was saying. The UFC clutching at straws to say the least.
To be honest, other than taking mild interest in listening to the raspberries from Aldo & Edgar. Hearing what Miesha Tate's had to say whilst not looking at her outfit once and thrilling at the banter and seemingly stewed beef between Joanna Jedrzejczyk & Claudia Gadelha, great fun! (Should make for a great fight) "They all will I'm sure!" But… Unfortunately there is a but, no matter which way I look at it.
Jones may well be the man to replace the main event with an expected Cormier rematch, BUT, he has the small task of wading through Ovince Saint Preux with a 15.5 months of ring rust to shake. And… BUT, he's still to re-ignite with the many fans who still feel, well, shall we say, pissed off with a number of his lifestyle choices and actions, self included, even if I wouldn't be found looking up at him to tell him so! It is one thing to preach the path of the learner and personal growth only to be filmed and subsequently jailed for being a spoon. This hardly fills me with the belief his presser spiel is truly coming from the heart. So… Would a Jon Bones Jones V Cormier headliner drum the business they now stand to lose. Personally, I don't see it, and I don't see anyone else doing it either. Just not to the scale and sanctuary a McGregor V's Diaz II would. You know what though, no matter how much the haters hate, the whiners and grinders always bring the dollar and never fail to watch the show! Self included.
Mid conference Conor enlightened the room with a false sense of presence, The McGregor Diaz UFC200 Show took another turn as he piped up on twitter…
Everyone flew in. Respect.
But not everyone up there made the company 400million in 8 months.

— Conor McGregor (@TheNotoriousMMA) April 22, 2016
And so it went again… Nate asking a reporter "what did he tweet", the reporter reiterated what he could remember and Dana was smiling, but again, that one had to have stung.
Believing in the points Conor is making is one thing, and I do believe it is right he does nudge. Shit, who wouldn't give to be in a position where you feel you can! What I'm torn between is how much of this truly belongs in public view. Example, I really was not sure about the "I've got my bills paid. My money made. And the entire game slayed. #YourMove" tweet. Too much? I think so, erm, phone call for that one C.
Now what did interest me was Dana's reaction when questioned on the contractual requirements, he swiftly moved to affirm that the UFC would be taking no action against McGregor for not showing. So that got me thinking, could they even do that, remember Conor stated quite blatantly, I'm paid to fight, not promote. Could McGregor then push the UFC for loss of earnings, interesting indeed. I don't think it would come to that, just my brain spinning and the fingers relaying.
Lastly, if like Dana also stated this evening, he expects that Conor will fight the winner of the Aldo v's Edgar at 145 to defend his belt. This means, for the time being at least, he's lost the opportunity of Nate. Now… I like many had figured that Conor wanted the Diaz II so that a win would align him with another shot at RDA (Rafael dos Anjos), the man he was due to fight before he pulled through injury. Why would he want that? I have it in my head that Conor truly does not wish to head all the way back down to 145. (Even Edgar said the same this evening at the conference.) 'If' Conor see's himself as the 155 champion next, this whole scenario could well be showing signs of implosion for Conor, should the UFC not have a dramatic change of heart.
The UFC have solidly affirmed twice now that Conor is out! I really do not see them backtracking unless they are legally forced to do so.
Conor does hold some very poignant cards but the UFC is flexing hard! If this stalemate holds and my weight analogy rings any real elements of truth. Conor McGregor will have to hit that diet plan again whilst eating a good old chunk of humble pie. His hand stripped, what's he got left? The direct legal challenge card? A McGregor promotions rollout? Most all the cards are dealt, can't wait to see who plays their hand next.
The following two tabs change content below.
The Master Of My Fate, The Captain Of My Soul... Hierophant blog artist and small town northern plebeian caught in a revolving overzealous opinionated bubble. My writing can be harsh but is always to the point and without bullshittery. Provocateur of humorous catalytic moments as warped as a bunch of alcoholics sipping sarsaparilla in a temperance bar mid prohibition.