RUSH… Friday the 13th September 2013
It felt like I'd been amping myself up for the release of Ron Howard's Rush movie since the day after the Silverstone GP when I arrived home. Though thoroughly contented with my long weekends thrills and Pimms O'Clock antics with friends, I still found time to look toward the next races on the F1 calendar and the release of this film.

I have recently learned that liking a Films Facebook page prior to its release can strangely feel like a pleasant nauseating nuisance. For instance, being subjected to so many pre-release reviews, looking at the red carpet images without yourself on them.
Watching interviews and hearing all about something you desperately want to see, eleven whole days before you will even get a glimpse at it, does completely suck! " But in a good way"?… Eh!
A 'relatively quiet', unassuming obsessive, infatuated F1 junkie. Petrol head, anorak, nerd or geek are a few of the terms you'd quite probably associate with my self-proclaimed title.
One of the things that caught my attention within these few months of self confessed childish excitable link-click-addict-able torture is… So many ,apparently reputable journalists spout their thoughts in the name of a good review. By text, voice and unfortunately from some, by dribble, their idea of what a review should include differs greatly. The bad ones, of which I've noted many, read as though all opinion and facts they relay are all incontestable fact. This seemingly in some lame attempt that they better captivate and enlighten their own audience, not the films. My problem? In this case, so many reviews have become nothing more than a tardis for journalistic ego trips, intent on somehow belittling every fragment of contestable fact. It is a great film 'but', it is a travesty that they, I wish they had…
The unquestionable reality is, fact based films have always added extra emphasis on character, visual flare and punch. A film is what it states on the tin. Documentaries differ greatly! I was excited to see this "FILM", I had never been expecting to incontestably walk hand in hand with James and Niki through the 1970's. But my lone zone got me damned close!… Sadly a good 50% + of movie critiques need to understand that their efforts create nothing more than poor and damaging spoilers for those with an open mind, yet to see the film. Talk about burning industry bridges. Choose life, choose a job better suited to your pre-loaded quite negative attitudes please. Perhaps some should go and review some fatbergs in the London sewer system for a week or two, then blame it on the British cinemas nacho experience.
The Fact is, This Film Rocks On Many Levels!
You don't need to be a Motorsports nut to enjoy Rush any more than you needed to be a plane spotter to have enjoyed Top Gun. RUSH is the real deal and can be thoroughly enjoyed by all. I know! I had planned a 'me and my mates' styled outing, then felt the wrath of my wonderful lady when I informed her of my plans. Now I will be attending again, with her! And then again with my Father, who I know will love it. So, it all worked out stunningly in the end as I get three cinema visits inside of a fortnight.
A little insight in relation to the history behind the British side of F1 and Rush. The first Formula 1 race of the modern era (FIA World Championship) began at Silverstone Circuit, England. In that race, eleven of the twenty three drivers that qualified, were, you guessed it… British. Today eight of the eleven F1 team base camp factories are located in Britain. And finally, 10 British drivers have taken the F1 world championship title a total of 14 times:
Jackie Stewart (3), Jim Clark (2), Graham Hill (2), Mike Hawthorn (1), John Surtees (1), James Hunt (1), Nigel Mansell (1), Damon Hill (1), Lewis Hamilton (1), Jenson Button (1). Can you put the names to the faces below?..
Contrary to many reviews, (previously noted): RUSH "is" an awesome FILM…, It "is" amazing that they…, I'm so glad they did… Leave your Racing Anoraks and all the uber-critical spoiler reviews you may have read at the door. Be seated and relax. Nibble your Nachos and enter your lone zone. Go on! Dig deep and find it. It's still in there. You remember! The place where even an after school cartoon would suck you in so deep, you felt completely engulfed. By all means, please take your love for the sport, your regard for the legends, the vehicles and the glory.. You will certainly be glad you did.
The 1970's saw a world on the very cusp of huge technological advancements in every possible field. Formula 1 stood, as it still stands today, at the forefront of International Motorsports, thwart with danger, riddled with intense competitive desire and risk. To all who have raced in this most exhilarating and entertaining of sports. I humbly tip my hat.
An unlikely candidate in Ron Howard (Director) you may say. Residing from Milwaukee, Wisconsin (Just kidding but click here to see him when he did once live there anyway!) So, on a serious note, residing from the USA, a thoroughbred NASCAR (Motorsports) nation. Ron Howard is an American man seemingly encapsulated by the story of Andreas Nikolaus "Niki" Lauda and James Simon Wallis Hunt. Two of many, highly skilled, courageous souls in the history of F1, two contrasting drive styles, two contrasted lifestyles, two strikingly competitive individuals with a mutual respect and admiration for one another that thoroughly deserves to be immortalised by film. Rush is the account of an astonishing Motorsports period within a truly mesmerising era of F1 racing.
Niki Lauda born February 22, 1949 Austria, is portrayed in Rush by Spanish-born German actor Daniel Brühl. Brühl had the privilege to spend quality time with Lauder in Vienna to aid his role preparation. Lauda even flew Brühl to Sao Paolo for the Grand Prix where he also gained him Mercedes pit access. So, its safe to report that the two got along well and I'm incredibly envious of the time they shared together. For me, Brühl's performance is nothing short of Oscar material. I sincerely hope he is rewarded for his efforts.
I should at this point also mention Alexandra Maria Lara, the Romanian born actress that played the role of Lauda's wife also bares remarkable resemblance and characteristic similarities to a 1970's Marlene Knaus (Lauda's Wife until their separation in 1991.)
James Hunt born 29 August 1947 is played by Australian actor Chris Hemsworth. There is no doubt Hemsworth had a much tougher time preparing for the role of James. James unfortunately passed away at the age of 45 (15th June 1993). It has been reported that Hemsworth became quite engrossed with the life of James Hunt as he made preparations for the role. Pre-release I'd been hoping Hemsworth pulled it off. It can not have been any easy task with the great man not being around for Hemsworth to feed off. Being only three years old in 76, I have had a tough time recalling absolute comparison to Hunt the race driver too. As a child watching F1 I remember much more of his commentary whilst working alongside my all time favorite F1 presenter Murray Walker. Hemsworth's performance is exactly as I'd expected and for me he can be sincerely happy with his portrayal.
Rush is set around the early to mid 1970's and centers itself on the 1976 Formula 1 season which almost ended up costing Lauda his life. The 1976 F1 season was run over sixteen races, the season commenced on 25 January and ended on 24 October. A very political season saw Hunt and Lauda take the championship title right to the wire in the final race of the season. A season and story that can only be described as awe inspiring.
From the start of his career, Lauda was seemingly a methodical driver and technically minded way beyond his years and drive experience. Prior to one particular Grand Prix race (Nürburgring, Germany) Niki Lauda, as current world champion, urged all his fellow race drivers to boycott the race due to his safety concerns. At this time he was the quickest driver on the circuit. The drivers voted against Lauda's wishes and the race went ahead. Lauda suffered life threatening injuries in the race (1st August 1976). As testament to the mans nerves of steel and outright skill, he came back from this misfortune to win the world title on a further two occasions.
Rush graphically revisits this incident and all surrounding circumstance in mesmerising detail. How to convey such courage and heart here to you now? A tall order. Here is a man that flatly refused a prominent invite from the pearl gates and recovered so rapidly, and with such conviction, he was back racing inside of six weeks! Let me tell you, this man is tougher than wurtzite boron nitride and mineral lonsdaleite combined! Tougher Than Diamonds!
Hunt on the other hand has always been well documented as the stereotypical 70's playboy sportsman. This factor was bound to take precedent upon the movies introduction of his character. Whilst his charisma and charm wooed so many, his passion for driving fast, whilst living and racing on the edge enabled him to etch his name as one of Formula 1's greatest. An honorable testament to Hunts race craft, Niki Lauda has been quoted; that he trusted Hunt implicitly, because of his precise style and sure hands. When driving at 300-kilometers per hour side by side, Hunt was the man Lauda trusted and wanted there.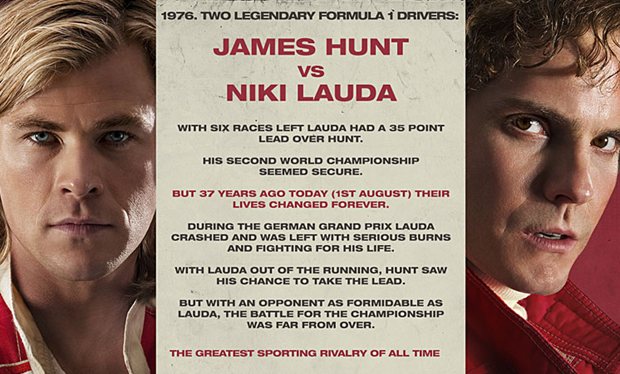 For me, Rush the movie encapsulates the mood and spirit of the 1970's beautifully, the chicks are hot, and the cars even hotter. (From what I'm told, the blokes are not too bad either). The drivers, the champions, their lifestyles are all bonded in a way that will enlighten and enhance your understanding of this period in time and in Formula1 racing. So much so, that I feel we may see a good few new faces at Silverstone next year. Maybe you will be one of them!
With seventies sounds and the roar of engines that will ensure you feel the full force of the film in the pit of your stomach. Visuals that leave you wanting just that little bit more. And an all consuming, utterly fixating, emotional roller coaster that paints these two masters almost exactly as they where. Rush shows the true intensity of Hunt and Lauda's time together in F1. This film is one true story not to be missed.
Ron Howard… You have done the sport I love proud. You have sealed both James and Niki in a time capsule of film where they can be rightly imortalised forever. I Thank you!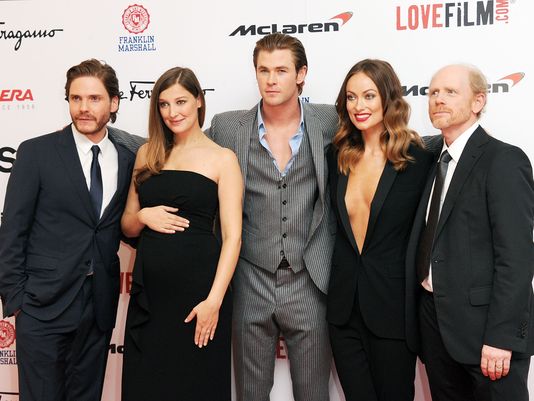 Daniel Bruhl, Alexandra Maria Lara, Chris Hemsworth and Olivia Wilde join director Ron Howard at 'Rush's' London premiere. © Getty Images
---
The following two tabs change content below.
The Master Of My Fate, The Captain Of My Soul... Hierophant blog artist and small town northern plebeian caught in a revolving overzealous opinionated bubble. My writing can be harsh but is always to the point and without bullshittery. Provocateur of humorous catalytic moments as warped as a bunch of alcoholics sipping sarsaparilla in a temperance bar mid prohibition.