On to McGregor Vs Diaz II in a moment, first up a quick load lightener. When contemplating passing comment on an MMA Fan FB page, one of the first things to take into consideration is that by doing so you are entering the MVA octagon. (Mixed Verbal Arts).
Here, seemingly every other 'fan' has it in them to immediately proclaim "they are more than a fan than you", "they have been watching longer", "they went to at least 5 jujitsu classes when they were 9", "They are Saturday afternoon mixed martial artists"… They understand every element of the sport and their opinion therefore stands above all others, 'without exception!' The real element of fun that comes with this terrain is, these nugnuts are all pretty much jabbering white belts when you challenge them on their views.
Never have I seen such divided arrogance from the blissfully unaware cockwomble populous, never so much brain-dead bullshittery, and lastly, never such warped misinterpretation and misunderstanding of business! So now I've perhaps got your attention and you are in all probability thinking "who is this dick"… I'm the guy that knows more than you bunch of pussies.
Whilst awaiting response from some of the bods detailed above that didn't take a moment to get the joke, I may as well entice a little more hate. I've only been actively following / watching MMA since 2011, what's more Conor was the first fighter I latched on to. At the time, I'd been watching a string of Irish traveller bare knuckle bouts on the Tube and various other media outlets, somewhere along the line I stumbled on the 2008 McGregor interview and my interest in the sport really grew from there.
I'm sure that statement's got a few of the dimmed headlights flickering so lets leave that with them and move on to the real purpose behind the post, the business of MMA, specifically, the UFC.
On the 17th March I called out my educated guess on a MMA Junkie FB post that I felt McGregor Vs Diaz II would be the natural fight for the UFC to promote for UFC 200. The next day MMA Junkie popped up with Ariel Helwani making an informed shout out on it. I'm actually listening to Ariel discuss this exact topic as I type – The MMA Hour Live – March 21, 2016 – MMA Fighting on SBN YT.
McGregor Vs Diaz II
So here's my thoughts why McGregor Vs Diaz II makes the most sense… "$$$" … Not enough of an answer?
I'm pretty sure the revenue statistics didn't lie to the UFC and I'd put my money where mouth is to claim that McGregor Vs Diaz made more than Rafael dos Anjos V's McGregor ever would. Why? well, I believe RDA is about as saleable as bruised fruit.
Take all skill sets aside, who's interviews will you watch intently, who encapsulates you for the moment or simply intrigues you to click play in the first place, regardless of whether they generally irritate or buzz you. Both Diaz brothers are in there for me as is Conor, there are many I simply do not give any time to, period. Ronda Rousey is someone I have no time for outside of the ring, I think she's an utterly shit actress with a serious lack of likeable persona, but that perhaps for another day.
Most super stars are very good at what they do, some have extra qualities, they are photogenic, funny or they may simply have an abundance of character or flare. There are many other aspects that could well come in to play but the real gurus have charisma and they know or are perhaps even advised how to use it. For the most part, this is where Conor excels, other than the pet tiger comments and the press conference remarks on his power over the UFC , there is really no denying, he generally tows the line whilst all the while nudging the boundaries. There is simply no denying, his work ethic and demeanour brings in literally masses of new viewers and ultimately fans! (Little people take note, this is a good thing!)
UFC 196 – 2nd highest ever PPV with 1.5 million. Sure each athlete on the card made some good sales but hand on heart, who do you feel made the most?… I'm not talking match ups, I'm talking lone athlete drawing in PPV's. Conor is your man. If you really want, by all means, throw Nate in that mix. The pairing made for plain and simple dynamite. A McGregor Vs Diaz II showdown will without a doubt be just as explosive. The social ants are already marching, and the path they are flogging has already turned from the depths of the whine cellar to banter of the unhealthiest degree (Perfect!) It is for this reason… This fight is already sold in the minds of many. The amplifier is humming already with more than enough bass. Job done!
Screw the protocol, the rattled would be challengers, what's right or WTF you expected for now.. Sit back and enjoy the blazing show that will be the UFC 200 showdown – Should McGregor Vs Diaz II be legitimately announced in the coming days.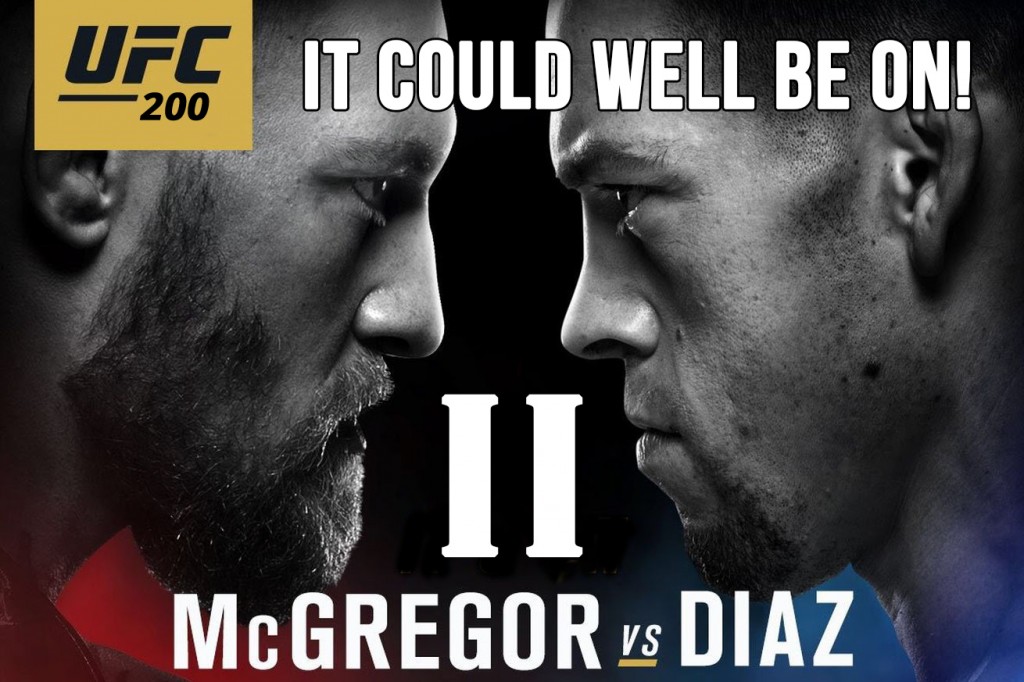 Superstars emerge in every sport – The UFC are no different from the NFL, MBL, The Premiership, F1 in this regard, they have no real control over any stars emergence. Though once the individual begins to shine it will surely always be followed by numerous forms of assisted hype! Protect and serve your investment…. Its all about the business! All the dummy throwers with their "But its not fair" quibbles are quite frankly just fucktarded and annoying. Consider yourself served with the right information, any further murmurs simply secure the oxygen theft case against you.
Love or hate him Conor has lit an all new spotlight elevating the sport you love, and for that, we as fans should surely be grateful.
The following two tabs change content below.
The Master Of My Fate, The Captain Of My Soul... Hierophant blog artist and small town northern plebeian caught in a revolving overzealous opinionated bubble. My writing can be harsh but is always to the point and without bullshittery. Provocateur of humorous catalytic moments as warped as a bunch of alcoholics sipping sarsaparilla in a temperance bar mid prohibition.